Happy Tails and Forever Homes!!
Percy (now Dutch) ADOPTED!! 
Electra (now Maggie) ADOPTED!!
Linus (now Manny) ADOPTED!!
Aura (now Maya) ADOPTED!!
Elle (now Lexa) – ADOPTED!!
Jubilee (now Casey) – ADOPTED!! 
Harriet (now Laverne) –  ADOPTED!! 
Atlas (now Wilmer) – ADOPTED!!
Ares (now Dublin) – ADOPTED!!
Cleo – ADOPTED!!
Zoe (now Luna) – ADOPTED!!
Selena (now Sally) – ADOPTED!!
Parker – ADOPTED!!
Pluto – ADOPTED!!
Rocket – ADOPTED!!
Iris (now Jenny) – ADOPTED!!
Rocky – ADOPTED!!
Echo (now Gunston) – ADOPTED!!
Zeus – ADOPTED!!
Venus (now Millie) ADOPTED!!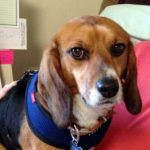 Atom – ADOPTED!! The leader of the pack, when Atom first came to us, he liked to be the boss of everyone. We quickly saw through his false bravado and knew that underneath was a big mushy teddy bear. Atom has found his forever home with a family who gave him the time he needed to blossom into the fantastic dog that he is. He is one lucky dog!
Niobe (now Bailey) – ADOPTED!! Congratulations to this sweet girl for finding a wonderful forever home where she will find love and happiness for the rest of her life. When Niobe (now Bailey) was in foster care she escaped and spent two days on the run. No one got much sleep for two days until Niobe returned to her foster home. Now in her forever home her family keeps a close eye on this cutie pie. We have a feeling that she won't stray from home ever again.
Thor (now Baxter) – ADOPTED!! Hooray for Thor (now Baxter) who has been adopted into a forever home with a beagle brother and human sisters to play with. One does not meet Thor (now Baxter) and not rub his belly. The rules are that when you meet Thor (now Baxter) you must rub his belly. This sweet boy is living the life every Freegle should! Wishing him a long life with all the belly rubs one Freegle can stand!
Oliver – ADOPTED!! – We are so very thrilled for Oliver (Ollie) and his forever family. This goofy boy made his way to us from Kindness Ranch, after retiring from biomedical research months earlier, for a fresh start. Being an older boy he was often overlooked in favor of our younger Freegles. We knew that the right family would eventually come along for him and were committed, like all of our Freegles, to keep him happy and safe until we could find the perfect match. Enter his forever family who fell in love pretty quickly. Wishing Ollie belly rubs and lots of love forever and ever. Thank you to his family for seeing what a gem this boy is.
Alexi – ADOPTED!! – Sweet and adorable Alexi has taken to her new leash on life very quickly. Anything but shy this little girl has been very busy exploring her forever home. With her new sister, Belle the cat, Alexi is living the life every Freegle deserves. Her mom chose her from a photograph and knew the time was right to adopt a retired research dog. This silly girl is living out her life and embracing every new adventure in a beautiful New England home. Wishing you all good things your new life can offer you sweet girl!
Morpheus (now Sam) – ADOPTED!! – This lovable little guy couldn't wait to start his new leash on life. Morpheus, now Sam, picked out his forever family the moment he met them. When his mom and human brother came to choose a Freegle, Sam immediately pushed his way to the front and into the arms of his human brother, they have been best buds ever since. His mom tells us that he is the sweetest pup in the world. We have a feeling she's right!
Trinity (now Chloe) – ADOPTED!! Tiny little Trinity, now Chloe is about as fierce as they come. This little girl is the smallest Freegle we have ever taken in but she fearless. Living with two large white golden retrivers does not intimidate her one bit. On any given day you will likely find her wrestling her furry brother Biscuit, sharing her toys with her furry sister Jewel or cuddling with her human sister. Chloe is making the most of her new leash on life!
Aurora – ADOPTED!! This sweet girl is one lucky girl who is treated like the princess that she is, in her forever home. Her foster to adopt mom waited a long time for this special girl and reports that Aurora is the sweetest and happiest girl in the world. She spends a lot of time with her furry sister Marley, who has taught her a lot about her brand new world. We wish you lots of love and a long life sweet baby.
Stark – ADOPTED!! Stark's first few weeks out of the lab were hard for him. He struggled with getting along with other dogs and had some guarding issues. With some training and guidance Stark has become the model Freegle and has found his forever home. He will be living the good life off the shore of one of the Great Lakes in upstate New York!
Blade – ADOPTED!! Sweet and adorable Blade has gone on to live his new leash on life at Kindness Ranch, our adoption partner out in Hartville, Wyoming. Blade has some separation anxiety that he will be working on at the ranch. We are so sad to see this sweet boy go but we knew it would be the best environment for this beautiful Freegle boy. Enjoy the great big West Blade, we love you.
Khaleesi (now Cassie) – ADOPTED!! When Khaleesi's foster mom volunteered to foster a Freegle for us she, in her own words, didn't expect to fall in love so fast. This is life with a Freegle though. It's nearly impossible to watch a Freegle experience all of their firsts without them stealing your heart in the process. Khaleesi's mom, has renamed her to Cassidy and promises to keep us all updated on how this incredibly sweet girl is living out her new leash on life. Congratulations Cassidy, enjoy your retirement.
Ivy – ADOPTED!! Ivy's mom would be the first to happily admit that she is a foster failure. This tenacious little girl wrapped herself firmly into her moms heart pretty quickly. Within days of arriving, maybe less her mom realized that Ivy would be staying forever. We could not be happier for this sweet girl and wish her much happiness in her new leash on life.
Jubilee – ADOPTED!! If you had to sum up this little girl in one word it would be impossible. Jubilee is now a New York City girl, living with her new mom and dad. She gets to be the only dog and be spoiled every day. We could not have asked for anything more and wish her beautiful days and snuggly nights in the Big Apple.
Luna – ADOPTED!! No Freegle has surprised us more than Luna, or also known by her mom as Luna-tic. This timid and frightened little girl immediately made herself at home while in foster care at Freegle Sunny's home where she promptly came out of her shell to take charge. Luna has stolen the hearts of her entire family and is having the time of her life, being the boss, sleeping in the sunshine and cuddling with her grandma.
Mystique – ADOPTED!! This sassy little girl has had no trouble adapting to her brand new life. Mystique has been adopted by a lovely family with children and a black lab brother names Cash. We have no doubt that she will be so happy with her new leash on life.
Scarlett (now Elvie) – ADOPTED!! – Sometimes first impressions are not correct and after a long ride home from the lab listening to Scarlett howl her head off we thought, uh oh, what do we do with this one. But this sweet girl has adjusted beautifully to her new life and she became an amazing companion her forever mom and dad. Scarlett has been renamed to Elvie by her forever family. We can't wait to see the updates on this sweet girl as she lives out her new leash on life.
Sage – ADOPTED!! – When we first met Sage's new foster parents they confessed to us that all they really wanted was to adopt a Freegle. We asked them to foster Sage for us and we are so glad we did. Sage likes being the only dog and the center of attention from her mom and dad. We are thrilled that her foster family decided to make this one forever.
Violet – ADOPTED!! – Tiny little Violet came to us so quiet and shy has make remarkable strides in learning the ropes of retirement. This sweet girl was like a flower waiting to bloom. We are so happy for Violet and her forever family and wish her many years of love and cuddles.
Phoenix – ADOPTED!! – Tiny little Phoenix was a shy little girl when she first came to us. She is the smallest Freegle we have every seen. What she lacks in size she makes up for in heart. Her forever family fell in love with her from the moment they met her. We wish Phoenix and her family many years of happiness.
Flash – ADOPTED!! – This silly boy was the superstar at a recent adoption event prior to his adoption. Everyone wanted him but none measured up to what we felt Flash needed. And then along came his forever family. With two young boys in his life this sweet boy is sure to get his exercise. His human brothers asked Santa for a dog for Christmas and, well, who are we to question Santa?! Best of everything Flash in your forever home.
Dash – ADOPTED!! Sweet and adorable Dash came to us from Kindness Ranch as a shy boy not quite ready for adoption. We quickly realized that a little one on one training went a long way in building his confidence. Dash met his forever mom and dad at a local event and it was love at first sight. They didn't realize they were about to adopt a dog until that day. Dash is pretty hard to resist though. This lucky boy is living out his life playing at the dog park, hiking on the trails, sleeping on the bed and all the love in the world. Who could ask for anything more?!
Gambit – ADOPTED!! When Gambit's mom and dad first contacted us we knew they would be the perfect adopters for one of our Freegles. When we learned that they have a pet rabbit we put on the brakes. Beagles, by nature are hunting dogs and we were concerned for the safety of their rabbit. Agreeing to wait for the right Freegle it was almost a year before Gambit came into their lives. The moment we met Gambit we knew we had the perfect family for him. Gambit is now living out his new leash on life with two furry sisters, a rabbit and a beagle chihuahua mix! What a lucky boy!
Logan – ADOPTED!! This sweet and gentle giant is the biggest Freegle we have ever taken in. Logan was listed as a hound mix at the lab he came from this big boy has made himself right at home in his forever home.
Storm (now Desi) – ADOPTED!! From the moment she arrived at BeFreegle, Storm, now Desi, embraced her new leash on life with everything she had. Desi is a fierce little girl with an indomitable spirit, who bravely takes on every new adventure. But not everything in Desi's new life revolves around great big adventures, she gets to have her share of cuddle time with her Mom, and that might well be her favorite thing in the world. Go Desi Go!
Rogue – ADOPTED!! There's no way that you could meet Rogue and not have your heart immediately stolen by this sweet little girl. Her forever family is no exception. Rogue is living the most wonderful life with her forever family that incudes Mom, Dad and human sister Caitlin. The bond that Rogue and Caitlin share has been apparent from the moment they met. Caitlin helped Rogue out of her shy shell to be the confident little girl she is now, living the life every Freegle deserves.
Odie  –  ADOPTED!! Adorable Odie is living the good life in the Big Apple where he lives with his humans and cat siblings. His Mom reports that Odie is still loves giving hugs and takes every opportunity to snuggle with his humans and his favorite feline sister Ally. Odie is loving life and having the best time exploring New York City with his Mom and Dad.
Jasper – ADOPTED!! From the moment he arrived at BeFreegle Jasper's sweet and happy personality shone through. This happy boy has been so lucky to have a wonderful family to call his own. His Mom and Dad and furry canine sister Indie have many wonderful adventures together as they explore this great big with with Jasper. Making friends everywhere he goes Jasper has truly embraced his new leash on life.
Loki – ADOPTED!! Sweet Loki is one lucky Freegle boy. His forever family fell in love with him even before they met him. Home is with his wonderful Mom and his beagle brother Nigel who has become Loki's best friend. What more could we ask for this lovable boy then to have a Mom who loves him and a brother to play with!?
Jax – ADOPTED!!! Adorable little Jax, known to his Mom as Lil Man is one busy Freegle boy. This sweet boy has got just about the best home he could ask for. His Mom and Dad gave him the time and space he needed to learn to trust them. Jax does everything with a tremendous amount of spirit. He plays hard and can usually be found napping, toy still in his mouth, after a playtime session. This amazing little boy has found his new leash on life with a family who will love him forever.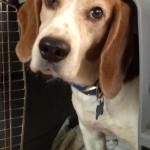 Charley – ADOPTED!!! Charley is living the life every Freegle should with his new family including Mom, Dad and furry beagle-mix sister Penny. Charley goes to the dog park almost every day and loves to play fetch! When not chasing the ball or charming everyone he meets, Charley has found his favorite spots either on the living room sofa or cuddling up with Mom on the bed. We are so happy for Charley's new leash on life and the wonderful home his new family has provided him. He is one lucky pup.
Dexter (now Snoopy) – ADOPTED!!! We always knew that Dexter, now Snoopy, would find his happily ever after. And on Valentine's Day 2015 he did just that, when he met a little boy named Marvin who only ever wanted a dog! These days Snoopy is living the good life as companion to his new family, Mom, Dad and Marvin. His wags are still larger than life and Snoopy embraces every day with giant heaps of gusto. We are so thrilled he has settled in to live out his days as a beloved family dog. Way to go Dexter/Snoopy!!
Sunshine (now Sunny or Sunny Bunny) – ADOPTED!!! Sunshine, now Sunny was destined to stay with her foster family from the moment she arrived. Her foster Mom was traveling for work leaving her foster Dad was in charge of the pack, Sunny made it her mission to snuggle up with her foster Dad in the bed while her foster Mom was away on business thus breaking the cardinal rule of fostering a Freegle! No Freegles on the furniture in foster care! By the time Mom came home Sunny had already established her spot on the bed. What more could they do than adopt her!? Giving her the time and space she needed Sunny was able to adjust to life outside the lab and has not looked back since. She has made herself a place in the hearts of her amazing forever family who will love her forever.
Daisy – ADOPTED!!! Sweet and beautiful little Daisy embraced her new life and family very quickly. She quickly stole the hearts of her forever Mom and Dad. Daisy goes to the office every day with her Mom and Dad and spends her weekend in wide open spaces in Vermont. Ever the little explorer she loves hiking and finding things her nose leads her to. After a long day outdoors Daisy can usually be found curled up in a soft bed sleeping like a little angel. We are forever grateful to her family for giving her such an amazing new leash on life.
Maya – ADOPTED!!! Maya, also known as Maya Papaya was adopted by Founder and Executive Director, Kate Aubry. It was an instant bond between the two and Maya rarely strays far from her Mom's side. Maya is being groomed by her big sister and fellow Freegle, Juno to become an Ambassador for the BeFreegle Foundation. When Maya is not glued to her Mom's side or being an Ambassador she can usually be found playing with her furry sisters or snoring like a sailor when the day is done. Maya has certainly embraced her new leash on life.