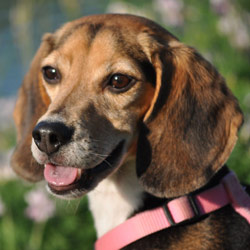 Avery came from a research laboratory back in 2010, unsure of the big new world around her. The most exciting thing her Mom reports was watching Avery grow and celebrate each new step in her new life. Today Avery loves to make people laugh, has boundless energy and loves to run at lightning speed. Her best trick is twirling like a ballerina when anyone sings her a song with her name in it. Being a true beagle girl, send a smile her way across the room or call her quietly while she sleeps and her little tail will wag with delight. Avery is now a confidant Freegle girl ready to take on the world or at the very least her Mom's heart.  
~~~~~~~~~~~~~~~~~~~~~~~~~~~~~
Mission Statement
The BeFreegle Foundation is a unique non-profit organization dedicated to providing sanctuary and rehabilitation to dogs that have been used in research.
The Foundation is dedicated to helping former research dogs become beloved companion animals through fostering each dog in a home environment until they become familiar with their new life and are ready to be adopted.
At the BeFreegle Foundation, we offer education, outreach, foster and adoption of these dogs through both the private and public sector via fundraising, merchandising, and participation in public events. We are committed to giving these dogs a new leash on life.
 ~~~~~~~~~~~~~~~~~~~~~~~~~~~~~
About BeFreegle Foundation
The BeFreegle Foundation began as an idea back in 2010 and has been a work in progress since then. Officially founded in late 2013 and launched in 2014 BeFreegle's mission is giving former research dogs a new leash on life through release, fostering and eventual adoption. We are committed to helping retired laboratory dogs live out the remainder of their years as beloved pets in forever homes.
The BeFreegle Foundation is a not for profit, charitable organization formed under Section 501(c)3 of the U.S. Internal Revenue Code. Donations to the BeFreegle Foundation  are tax-deductible as charitable contributions for US federal income tax purposes. There are no donation limits or restrictions on contributions to the BeFreegle Foundation.
Kate Aubry – Founder & Executive Director                
Being a dog lover, advocate and volunteer all her life, Kate adopted her first retired research beagle in 2010. Since that day she has dedicated her life to advocating for other dogs of research to find their way to freedom.  When not advocating for laboratory animals Kate works in the arts as part of a project team creating scenery for Broadway shows. She is also an outdoor enthusiast who loves getting lost in the woods with her dogs.