All In A Days Work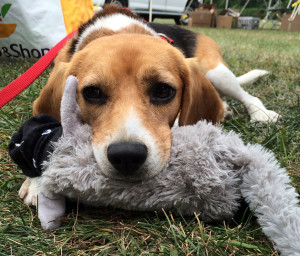 There's something incredibly special, for me, about participating in public events. The opportunity to meet and talk to people about BeFreegle, and the need for all of us to work together to help more dogs from research gain sanctuary, gets my juices flowing. I will talk all day to whoever will listen and people do listen. As event goers walk past our booth many pause when they see our BeFreegle Ambassadors. After all who can resist a beagle? When we greet them and tell them that our organization's mission is to help dogs from research find a new leash on life most stop dead in their tracks. They ask questions. Why beagles? How many? Do they have residual effects from their prior life? Do they all get to leave the labs when their research is complete? I can answer these questions in my sleep. They are the breed of choice because of their sweet docile dispositions, because they are small, easy to handle and for the most part a very healthy breed. Approximately 65,000 to 70,000 are used each year in the US. Many dogs retired from research are initially timid and unsure of their new surroundings but all are remarkably resilient and in our experience, they learn to embrace their new lives rather quickly. Sadly, of all the dogs used each year in research, not enough go on to live out the remainder of their lives as beloved family pets. I founded BeFreegle to help change that because I know we can do better.
This weekend we were invited by our friends, at the Duchess County SPCA, to participate in their 20th annual Petwalk. An event that draws crowds from throughout the Hudson Valley and gives folks a chance to bring their own dogs for a day of fun, including a dog agility course, free organic pet treats and lots of family oriented activities. As I packed the car in the early morning hours I was grateful for the sun peeking through the clouds. A perfect late summer day, mid 60's no humidity, in the Hudson Valley and the perfect opportunity to make new friends. What more could we ask for? Smiling at the thought of what the rest of the day would bring, I buckled Juno and Maya into the back seat. Ten minutes into our journey I realized I forgot our table and had to turn around and go back and get it. Annoyed because I was already a little late getting on the road I swung the car back around. Now even later for our destination all I wished for was a hot cup of coffee. A mile from our destination I passed a deli, hit the brakes, turned around and got my coffee. I got as far as exiting the deli as I proceeded to dump it all over myself. Cursing my clumsiness I quickly realized that I had dumped coffee all over my white BeFreegle shirt. More colorful words came from my mouth as I stood in the parking lot covered in coffee. I knew there was a reason I threw my other Befreegle shirt in the trunk before setting out that morning. Karma was on my side. Or so I thought! Thoroughly discouraged, I stripped my shirt off right there in the parking lot and put on my spare, marched back into the deli poured myself another cup of coffee and carefully got it to the car without further incident. Finally arriving in one piece, we were able to drive the car onto the field to unload. Since my volunteers would be arriving later than me I was on my own, with two Freegles, to set up. I've been doing events for years, I'm an expert at this. What could go wrong??
Here's how it all went down. Maya, who sometimes gets car sick, usually 30 seconds before we reach our destination, had spent the car ride drooling on herself, as we turned into the parking lot the vomit came. Getting her out of the car and cleaned up was my first priority. Once done, I decided that as soon as our pop up tent was up and everything was unloaded from the car, I would get Juno out too. In the meantime, I tied Maya's leash to the open car door handle. Tent up, car unloaded I took Juno out and tied her to the same door handle as Maya while I set up our booth. Bad idea. Within exactly 7 seconds they had tangled their leashes into an impossible knot, wrapped three times around Juno's leg, because I was 20 feet away and they obviously missed me. At the same time two folding chairs, courtesy of our hosts, arrived at our booth. Great, I thought, I'll tie a dog to each chair. Maya won't go anywhere as long as she's near me. Juno, on the other hand, will try to get to our neighboring booth, filled with dog food and treats, so I stacked a heavy t-shirt bin on her chair. Makes getting to the next booth more of a challenge for her. Not challenging enough apparently because in short order she had knocked the bin off the chair and was well on her way to visit and sample from our neighbors, chair and all. We were not getting off on the right foot with our neighbors so I dropped what I was doing to drag her back. As I did that Maya decided that I was much too far away and needed to be next to me, immediately, chair and all. The only difference between my two girls is that Juno is more seasoned and has had experience with chairs chasing her, Maya, not so much. As the chair gave way it bounced twice on the ground which was enough to get Maya hightailing it out of Dodge. Within moments chaos ensued. The chair gave up bouncing and folded in on itself, now resembling a sled, with Maya mushing along across the grassy field. My neighbors seemed horrified as my little dog ran willy nilly in small circles as I tried to stop her, running, laughing, yelling, "I got this". We finally got her to stop and I immediately realized that Juno was lose once again and was hightailing it back to the dog treats, again with chair in tow. Finally, able to corral them both I untied Maya from the chair sat on the grass with them and laughed til I cried. Maya, no worse for wear, was happy to be next to me again. As the excitement died down my neighbors went back to setting up their booths, speaking in whispers and wondering who exactly was in charge at our booth, me or the dogs. The jury is still out on that one.
I was able to get through the rest of set up without incident and on to the best part of the day, making new friends. The day was perfect, great attendance, engaged visitors, perfect weather, sunny and breezy. And then it got windy, then it got really windy, then our almost brand new BeFreegle tent was history. I'm endlessly grateful no one got hurt but unfortunately our tent became a mangled heap. Not about to let something small like that get in the way of our day, we spent the rest of that amazing afternoon, in the warm September sun. I am so thankful that my brother, Einar and his kids stopped by for a visit and to help us get the tent folded back up, without him I would still be trying to figure out that mess. I am also endlessly grateful for our BeFreegle volunteer, Anna, she always knows exactly what to do and is such a huge help to BeFreegle, gives endless love to Juno and Maya and is always well stocked with chickie strips. Volunteers are the backbone of any all volunteer non profit, don't let anyone else tell you otherwise.
In spite of all the things that seemed to go wrong that day, one blessed thing went exactly right. For the first time Maya was initiating contact with complete strangers and engaged in meet and greet the entire time. Wagging her tail and genuinely happy to be out on such a beautiful day. I'm so proud of her and always knew that giving her the time and space she needed she should follow in her big sisters footsteps (or pawsteps?)and become our Assistant BeFreegle Ambassador. If there was ever any doubt that a research dog could not go on to live out the remainder of their life, not only as a beloved family pet, but to serve their community and pay it forward for the next Freegles needing sanctuary, I think you need to meet my little girl, Maya.